Thanks to the support of our corporate partners, we have distributed over 6 million books to over 1 million families throughout the past 23 years. But there is still so much work to be done.
Your company's support would help us make a difference in lives of New York children by giving them the opportunity to develop a lifelong love of reading and to enter kindergarten ready to read, regardless of their financial situation. Whether through general support or funding the programmatic needs of one of our Greater New York sites, your partnership would allow for more children to have access to early literacy resources.
Ways Your Company Can Get Involved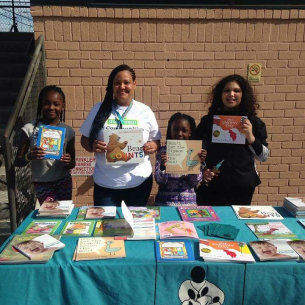 Employee Engagement
Community engagement opportunities can increase your employees' overall job satisfaction. We can provide opportunities for your employees to volunteer, host book drives, host virtual read alouds, fundraise, attend a corporate lunch and learn, and become more engrained in our mission.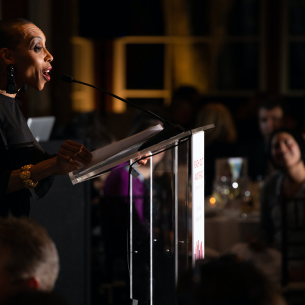 Sponsorship
Whether through our Annual Benefit, Annual Conference, or as a Corporate Partner, your support will allow us to distribute more books to children in lower socioeconomic communities, train more pediatricians in our program, and provide more resources for parents. We have an array of sponsorship benefits available to thank you for your support.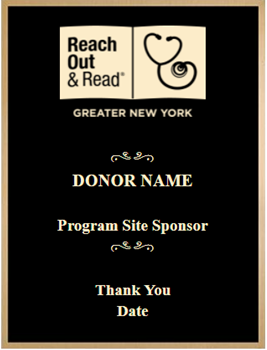 Program Site Sponsorship
By sponsoring one of our 230+ Greater New York program sites, you will make a lasting impact by ensuring the site has 100% of the funding and resources it needs to deliver high-quality interventions. Sponsorship benefits vary based on the sites.
To learn more about how your company can partner with Reach Out and Read of Greater New York, contact us below.
Our Top Collaborators
City's First Readers | NYC Dept of Youth and Community Development (DYCD) | First Book | The Pinkerton Foundation | The Carmel Hill Fund | The Elkes Foundation III | Jumping Cow Press | S&P Global | The Rona Jaffe Foundation | Donald A. Pels Charitable Trust | Scholastic Inc.| Garrett K. Smith | Staten Island Foundation | Schwartz Family | Council Member Oswald Feliz | The New Yankee Stadium Community Benefits Fund | Council Member Bill Perkins | Huron Consulting Group | Richmond County Savings Foundation | Dr. Robert C. and Tina Sohn Foundation | Goldman, Sachs & Co.